our reach
Headquartered in the heart of Kansas City, Hoefer Welker serves clients nationwide, delivering exceptional design solutions that redefine spaces and inspire communities from coast to coast. With additional offices strategically located in Dallas and Jacksonville, we ensure seamless collaboration and personalized attention to each project, no matter the location.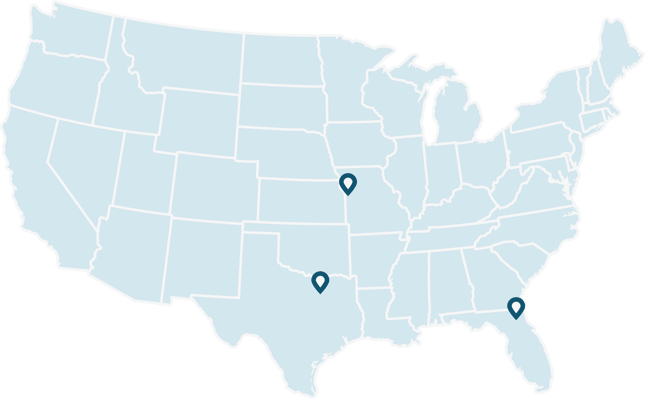 Hoefer Welker opened its Dallas office in 2014 to accommodate the firm's growing presence in the Southwest region. The Dallas team started with a heavy focus on healthcare but has since expanded its reach in the area to include higher education, mixed-use, civic and commercial designs.
Hoefer Welker was able to establish a footprint in this highly competitive area because of the firm's strong reputation for innovative design, collaborative partnerships and deep bench of talent.
Visit Dallas
Hoefer Welker's Jacksonville office opened in 2022 to accommodate the firm's fast-growing reach in the area. The Florida-based office serves the greater Southeast region in a range of sectors, from healthcare to commercial.
Visit Jacksonville
Hoefer Welker was founded in 1996 in Kansas City. While the firm has expanded to include offices in Dallas and Jacksonville, Kansas City continues to serve as the firm's home base. In 2023 Hoefer Welker moved its Kansas City office from Leawood to a stunning self-designed office space in the Country Club Plaza.
The Kansas City office serves as the firm's headquarters, but designers work collaboratively cross-country on projects, sharing best practices, expertise and resources.
Visit Kansas City